As Feruz Sons say 'Quality always speaks itself…!
Feruz Sons & Co. is one of well reputed footwear crafting platform in Bangladesh. We offer Buyer's Brand & Private Label development, Design & Product development, production, sourcing & solutions for highest-quality leather footwear made by extremely skilled & experienced shoemakers for your brand product, Importer, distributors, Traders, designers, chain shops, and retailers worldwide. Who are looking for high quality footwear for their Brand or private label, and who are also believe in the handmade philosophy, embracing celebrated qualities that come with original craftsmanship.
We believe in tailored services. Be it established or emerging businesses, FSC working like private consulting for each client each design, to be ensure all details of your product spectrum is being catered as per your expectations, by leveraging our technically sound & skilled product development team and production platform, together with a Ground Team of experienced production managers, communications and execution are streamlined without time zone limitations and language constraints.
A art of "Bangladeshi footwear craftsmanship"
This contemporary approach transforms the once-frenzied sourcing and manufacturing process, merging quality craftsmanship with up-to-date global practices. Likewise, our approach to production sits firmly in the roots of Bangladeshi craftsmanship, considering environmental and social responsibilities along the way. Results are the assurance of high quality and exceptional craftsmanship from satisfied artisans.
Our inspiration are our clients and peoples that appreciates for this footwear workmanship, rich crafting & finest quality, we have in mind to keep quality of each one pair of your shoes, as we know its directly involved with your Brand reputation. Built upon this foundation, FSC gathered a collective of talents, specialized in the departments of design, sourcing, production management, and manufacturing to deliver the best traits of Bangladeshi shoemaking to the global market.
With a Slogan "Quality always speaks itself." FSC was born in the East zone of Bangladesh, through the hands of a young businessman who decided to embrace handcrafting as an historical old passion for shoes designing & manufacturing process, engaging passionately since the beginning of the making up until their creative works are ready to be enjoyed by its customers.
In the field of footwear sector, we started our journey since year of 1995, our path was not easy and smooth, but entrepreneurial vision of the company's founder, with hard work, dedication, honesty and sprite of to do best, we passed our journey & gradually we earned our goodwill, reputation, and reliability in the market as we grew up. And then we started our export business in year of 2007, it helps to vitalize the traditional craftsmanship and find a wider market to serving by our rich & finest craftsmanship nationally and internationally. where skilled craftsmen's & craftswomen's also can show their ability of handcrafting.
We care each one pair of your shoe....
Now we are 100% export-oriented leather footwear industry with linkage reputed suppliers of leather, outsole, heels, insoles, midsoles & others related accessories. It has been inherited expertise and foreign know-how, our skilled craftsmanship has given a new face to our company, by specialty on hand moccasin, embellishment, leather braiding, leather mesh work and boutique type shoes. catering to the footwear needs of a global clientele now we are manufacturing and exporting all kinds of leather footwear on ODM/OEM/OBM basis, ruled by the rich quality & finest craftsmanship, those are our biggest strength to win our clients' heart. Feruz sons produce men/women/children's leather footwear according to client's requirements from anywhere around the globe. Feruz sons has already been introduced in Japan, UK, USA, Canada & few of European countries. Our footwear & our leather products are already proved his quality and standard in the world market by used the famous Bangladeshi Cow, Buffalo, Goat, Sheep leather.
By building trusting, honest and sincere relationships with our clients, employees, and partners, we hope to cultivate a stimulating environment resulting in future opportunities for Bangladesh. Your interest could be a chance for us to establish prosperous business relation with your company. We welcome you to visit us at your convenience.
Feruz Sons & Co. can provide GSP (Generalized System of Preferences) FROM "A" Which is enable for Japan and most of major European destinations to pay reduced import duties from theirs home custom.
Things you should know about our managing director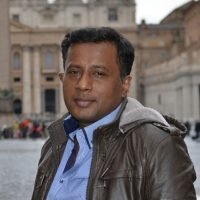 Mr. Rezaul Karim (Jewel) is an energetic, flexible, adaptable & very kind young self-made man. He is capable to do hard work efficiently, able to generate innovative ideas, also a constructive and diplomatic team player with strong communication skills, have hug knowledge and interest on latest technology, He completed his higher education (MBA) from Tokyo, Japan. So, his written and oral fluency in English & Japanese very well. He was born in a respectable Muslim family in the district of Comilla, Bangladesh.
Mr. Rezaul Karim started his career in this field, and he has obtained a lot of knowledge about commercial work, Banking, Leather & others raw materials procurement, production planning, from raw materials to finished product with quality control systems. He has worked hard in the footwear sector beginning of his career with a vision. Now he is a well-known person in Bangladesh footwear field.
Mr. Rezaul Karim has been established an elementary school for Orphaned children in the village where he born, and he expand a major percentage of his business profit for developing their education & lifestyle since his business life. He believes that the educated young generation only can make a change our social environment & economy of Bangladesh.
OUR MEMBERSHIP CERTIFICATIONs